Hello, wine lover 🫰
People say Croatia is the Next Big Thing in wine. But with 2,500 years of winemaking history and over 130 native varieties, it is also a big topic.
Let us break it all down for you starting with the key regions, grapes and personalities you should know.
Happy scrolling,
Belle & Zoran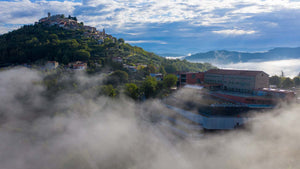 The northwest corner of Croatia, where the Alps meet the Mediterranean, is where the Istrian peninsula works its magic. Among its picturesque hilltop towns is a rich tradition of skin-contact whites and earthy reds waiting to be discovered.
Must try varieties:
Malvazija, Teran, Refošk
Dimitri Brečević
A half-French, half-Croatian winemaker working with traditional Istrian varieties in his signature honest style.
Home to some of the most extreme, and extremely beautiful, vineyards in the world, Dalmatia is a wine geeks paradise. It's hot and dry summers give us rich textured reds, mineral whites with gorgeous sea spray salinity, and endless hyper-local varieties to explore.
Must try varieties:
Pošip, Plavac Mali, Tribidrag (aka Zinfandel)
Bura-Mrgudić
Sought out by everyone from in-the-know locals to global billionaires, the Bura-Mrgudić family just does it better.
The cooler climate and higher altitudes of the Croatian Uplands is where classic Central European and local varieties come into their own. The wines are exceptionally gastronomic, with intense aromas and crisp acidity.
Must try varieties:
Traminac, Frankovka, Škrlet
Tomac
True to their Plešivica roots but open to the world, this hard-working family is setting a progressive biodynamic agenda for the region.
OK, just take my money already!
WINE BUNDLE
Essential Croatian Grapes 🍇
Fun bubbles, somm favorite Istrian white, and a juicy Dalmatian red. You can thank us later.
Buy Now
Want to know more?
Why Croatian wine could be the Next Big Thing
Croatia doesn't just produce good wines, but great ones, and the wine world has yet to recognise this.
Read on CNA Luxury
Introduction to Croatian varieties
Situated along the Adriatic Sea, Croatia has the perfect climate for making wine and olive oil.
Read on Wine Folly
The origins of Zinfandel and Primitivo
The story of Zinfandel is like a romantic thriller, and one that was solved only a very few years ago. 
Read on Jancis Robinson